A Visit to the Holy Land and Egypt in 1876
Oct 2-4: London to Paris
Oct 5-7: Paris to Turin
Oct 8-9: Turin to Brindisi and Embarkation on Trebizonda
Oct 10: Corfu
Oct 11: Cephalonia and Zante
Oct 12-14: Kithira and Thira
Oct 15-16: Smyrna
Oct 17-18: Ephesus
Oct 19-21: Rhodes and Cyprus
Oct 22-23: Beyrout and start of journey on horseback
Oct 24-25: Baalbek
Oct 26-28: Journey to Damascus
Oct 29: Damascus
Oct 30-Nov 1: Banyas and Mount of Transfiguration
Nov 2-3: El Jebel, Kadesh and Safad
Nov 4-5: Capernaum, Tiberias and Nazareth
Nov 6-8: Jenin and Nablus
Nov 9-10: Bethel and Jericho
Nov 11-12:River Jordan and Bethlehem
Nov 13-14: Hebron and arrival in Jerusalem
Nov 15: Church of the Holy Sepulchre
Nov 16: Temple, Via Dolorosa and quarries
Nov 17-18: Mizpah and more of Jerusalem's sites
Nov 19-22: Treacherous journey to Joppa
Nov 23-27: By boat to Cairo
Nov 28-30: Sightseeing in Cairo
Dec 1: The Pyramids
Dec 2-11: The Return Voyage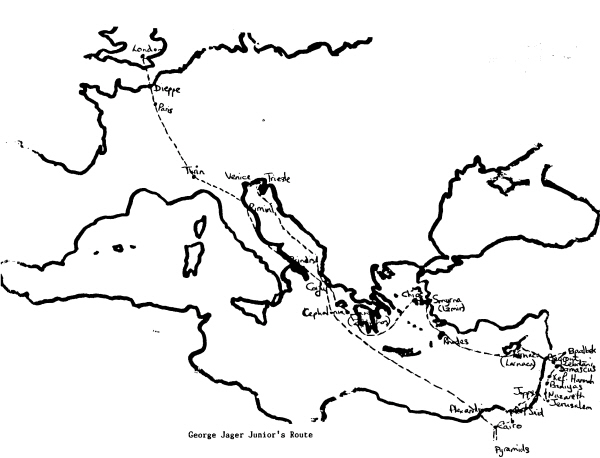 Introductory Note
On reading this account, it took several mentions of Jews in the context of the Holy Land effectively to remind this reader that they have only very recently, in historical terms, regained their homeland and been in the majority numerically in that country. They were dispersed for nearly 1900 years.
George Jager Junior went on his trip at an interesting time in history. In the Holy Land Jews had very recently started buying land and forming autonomous agricultural communities and thinking about the country. In Egypt the Suez Canal had been opened in 1869 and the Khedive was enjoying his last days of opulent living - he was deposed in 1879 having had to sell his Suez Canal shares to raise some money, thus allowing the expansion of the European influence that was later to take firm hold.
George Jager Junior's diary speaks for itself.
Nicky Carrel 1989
GCJ