Weymouth to South Haven Point
Aug 2 to 6 2014 Day 1 round Portland from/to Galway Guest House, Abbotsbury Road, Weymouth DT4 0AD
I woke to the sound of rain beating on the skylight, not a very promising start for today's walk. I realised I had not brought enough shirts, so I walked into the middle of Weymouth where I found an M&S and bought 2 t-shirts. However by this time the rain had stopped and before I was past the harbour my anorak was in my rucksack.
I followed the coast path with few problems bearing in mind that I was going in the opposite direction to the guidebook. Approaching the causeway it joined the Rodwell Trail, which I noticed came out very near Galway Guest House, so that would make the return easier.
I needed the guidebook as for the first part of Portland I saw few signs. There is quite a stiff climb to start with but it is relatively flat down to Portland Bill. The problems came with the 2 diversions for cliff falls as there was little indication how to get back to the safe stretches. I once ended up on the main road. However one thing well worth seeing was the Tout Quarry Sculpture Park, which included carvings of animals in the rock in such a way that you didn't notice them at first.
The return route is more challenging with a few stiff climbs and descents. There is a stretch along the old quarry rail bed, but that has to be left as there is no right of way later on. It is clearly signed where you have to leave it. It then gets a bit complicated but the signage is better on this side of the isle. I chose to take the SWCPA recommended route rather than the official route, which sounded involved but was straightforward when you saw it. The two rejoin by Verne prison gates. The prison looks very secure being surrounded by a deep gorge.
The views from the northern end of Portland are spectacular on a clear day such as this, with the curving line of Chesil Beach to the west and the imposing cliffs to the east all the way to St Aldhelm's Head. The way back to the causeway consists of a long straight downhill path along the route of the old Merchant Railway, then a well signposted route through Osprey Quay. Then back over the causeway and along the Rodwell Trail. I must have totalled about 17 miles this day, making it one of the longest of the whole path.
Day 2 to Downalong, Main Road, West Lulworth BH20 5RW
I had done this section in the opposite direction in about 1987. The two main things I remembered were that it was very tough at the Lulworth end (the strenuous classification must be close to severe), and that there had been a recent major cliff fall at the Weymouth end. I wonder if that was the place where there is now evidence of a partial slippage.
The route out of Weymouth is quite obvious even though signs were not always in evidence. Being a hot August Sunday there were plenty of people around for most of the route, not all of them wearing sensible walking gear. Quite soon it passes a camp site with tents as far as the eye can see. Then there was an adventure playground with plenty of noisy activities taking place. Most of the time the route was clear, though I missed the turning at Ringstead just before the car park. The attendant was able to put me right.
Not long after this it began to get tough with some very steep climbs and descents, and there were plenty of people around. I was worried that if I slipped I would bring a few down with me. By Durdle Door the path was heaving. I got to Lulworth OK and found Downalong eventually.
Day 3 to Chiltern Lodge, 8 Newfoundland Close, Worth Matravers BH19 3LX
I had arranged to meet Colin who I hadn't seen for about 20 years but used to run with regularly. However he had texted me with his plans but I had not received them because I had not been able to get a signal on my mobile. So at 9.30 when I was expecting to meet him at Lulworth I was unaware that he had set off from Worth Matravers nearly 3 hours earlier. Eventually I realised that I was to go without him and expect to meet him on the way, and set off along the Cove beach. The guidebook said there would be stairs at the end but they were not clear to see at first, and when I reached them I found them to be somewhat precarious. Once on top I was able to get a signal and discovered that I would meet him probably quite soon.
It was quite flat at first, and fortunately the gate to the ranges was open. However before long some spectacular cliffs come into view, and it becomes clear why this section is categorised Severe. A long path comes into view which contends as the toughest in the whole Coastal Path. After several pauses for breath I reached the top. This was followed by a longer stepped descent almost to the sea, and there seated at the bottom was Colin.
The rest of the way to Kimmeridge seems like continuous ups and downs, but we made reasonable time. The seasonal refreshments there was an ice cream van which was most welcome. The guidebook suggested that we might not be able to use the cliff top route from then onwards, but it was open and there were places where there had been recent repairs or the fence had been moved back. Rather ominously there were sections where there were significant cracks in the path, and it may not be long before more disappears into the sea.
This section is not quite as lumpy as the previous one but still challenging. There is then a diversion at Chapman's Pool, but Colin managed to take us down the wrong path even though he had been along it that morning. Eventually we got back on the correct path, and turned off to Renscombe Farm and Worth. However our timing was bad as we had to cross a field and the farmer had just finished ploughing it. If we had arrived 10 minutes later he would have had a chance to even out the pathway.
Before I made my way to Chiltern Lodge we slaked our thirst at the Square and Compass.
Day 4 to Grand Hotel, Swanage
Not everything went right today. I was not concentrating as I left Worth and turned off too soon on the path across the farm. I realised I was heading to St Aldhelm's Head so turned back in the direction I thought I should be going and managed to cross the correct path without realising it. I studied the map when I realised I was completely lost and miscalculated where I actually was. To cut a long story short, it should have taken me 20 minutes to get back on the coastal path but instead took 2 hours.
I had wondered why this section was graded severe when various people had said it was relatively flat. It looked straightforward to St Aldhelm Head, until you realised there was a major dip coming up, straight down and up about 200 steps. At the top it was a relief to be able to have a quiet sit-down in the Chapel. I was interested to see that they hold services there at Easter, Rogation (should that be St Aldhelm's Day?) and summer Sundays.
After that there are one or two steep bits, but no nasty surprises. However at about Dancing Ledge I discovered I still had my key to my room from the night before. Just before Durlston Park I discovered messages from the Ensors from Chiltern Lodge suggesting I meet up at Swanage station to hand it over. So I made my way straight there and eventually met up with David. I then went back up to Belle Vue Road and continued on the route proper, including an interesting section along the foreshore. Then it was along the front to the Grand Hotel.
Day 5 to South Haven Point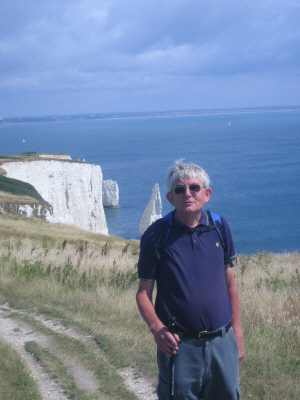 I was joined again by Pauline for the final stretch. The previous four days I had found quite tough, so I was relieved that this section was going to be comparatively easy. The guidebook suggests doing Worth Matravers to South Haven Point in one day which is certainly manageable but would probably mean finishing the whole thing off completely shattered.
We followed the book's suggestion to set off along the prom, onto the beach then up the steps. It is a bit disconcerting that you don't see the steps till you are almost on them. The route was pretty easy to follow, and we had our lunch on the cliffs just before Studland. We made our way through the village and onto the first section of beach, but we had to retrace our steps as the path between huts 59 and 60B is now blocked off. However it was not far back to another track and we duly made our way to the main beach.
The final section is 2.6 miles of Studland Beach. At either end there are plenty of families, while the central section is frequented by naturists. There was nothing here to excite or frighten anyone, all rather a disappointment.
And then just by the road leading to the ferry was the commemorative marker. Pauline took a couple of pictures of me, then it was back by bus to Swanage to pick up my rucksack from the Grand, after which she kindly drove me to Chippenham to pick up my car.